The implemented measures allow you to travel in lockdown Mexico where they are fully ready for you.
We have great news: if you follow the health recommendations, traveling to the Mexican Caribbean is safe right now to enjoy the beautiful beaches and recreational activities there.

What to do before your trip in Covid's time?
Book the hotel you will be staying at and the activities you're planning to do. Note that the hotels have reduced their accommodation capacity and some activities have rescheduled, so we suggest you call the providers before booking.
Make sure that the places you are going to visit are certified in Protection and Sanitary Prevention at Tourist Facilities (CPPSIT) as created by the Ministry of Tourism and the State Health Services of Quintana Roo.
Bring the necessary hand and surface sanitizers for your family.
Wearing masks is a must in virtually every situation.
Observe a minimum distance of 1.5 meters from other people in the places you visit, restaurants and when checking in at the airport.
Wash your hands often with soap and water for at least 20 seconds or use hand sanitizer after contact with any hazardous surface (elevators, public restrooms, etc.)

When is not safe to travel?
If you have been in contact with an infected person or someone who has been in contact with an infected person in the past 28 days.
If you are sick or have symptoms such as fever, cough or flu.
If you have recently traveled and did not rest for 14 days upon your return to your place of origin.
If you have not looked up the restrictions and guidelines at the place you want to visit.

What beaches are open in the Mexican Caribbean?
The Mexican Caribbean has magnificent beaches with pristine water and an ideal climate to enjoy your vacation. There are visiting protocols during the pandemic, such as a 60% accommodation limit and a safe distance between people.
Some beaches you can visit in mexican caribbean: Cancun: Playa Chac Mool, Playa Delfines y Playa Las Perlas. Riviera Maya: Playacar, Xcalacoco, Punta Esmeralda y Playa 88. Puerto Morelos: Ojo de agua y Punta Brava.
On these beaches you can do activities such as swimming with dolphins
If you are interested in an incredible dolphin swimming experience on any of these beaches, please contact us!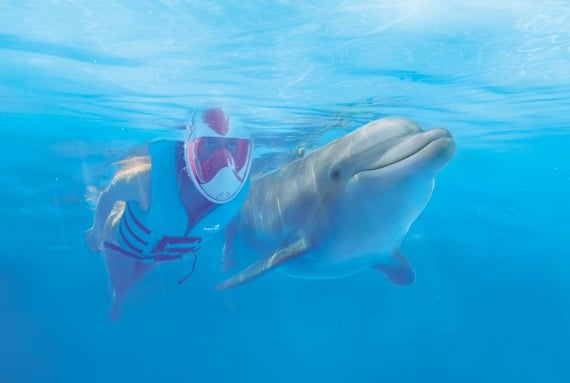 What other activities can I enjoy in the Mexican Caribbean?
Visit any of the open beaches
Take a cenote tour
Snorkeling or diving
Enjoy the gastronomy
A night out (See restaurant closing times during the pandemic)
Swimming with dolphins
Don't
forget to check the new opening and closing hours of restaurants, cenotes and other places you want to visit, since they have been modified during the pandemic.
Delphinus offers a variety of dolphin swim packages and transportation service from your resort to our facilities where you will have an unforgettable experience, learning about this incredible creature as you meet them in a natural environment.
We have high health safety standards to protect our employees and visitors in line with WHO, IAAPA and Mexican state and federal authorities.
To ensure a healthy environment, we have taken measures for our employees and visitors, including sanitizing contact surfaces, equipment and facilities, safe distance signaling, permanent hand washing, sanitizing gel and temperature recording.
We are ready to welcome you back!
Delphinus responde tus mensajes
If you have any more questions about the activities available for you at Delphinus or the health safety protocol, please let us know!